About Us
We are manufacturer of Fuel Gel / Dish Warmer / Chafing Dish Gel Fuel under brand "Wonder gel"™ had introduced ourselves in the market in 2006 after extensive research and experiment in this field. Since then, we have been meeting our customer requirements successfully with fruitful response.
We are here to serve you, with high quality, advanced speciality product designed to offer meaningful enhancements in its range of consumer applications. We maintain Quality Control cell in our Company to check the quality of each batch we manufacture.
Applications / Uses of Gel Fuel
Gel Fuel is mainly used by Caterers & Hotel Industries etc., for food warming purpose (heating dish / containers, hence the word dish warmer). It is also used in Fire-places in cold areas, esp., in winter season. Below picture shows use of Gel fuel.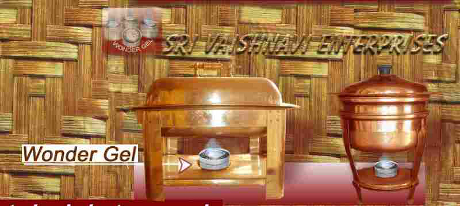 We basically manufacture in following sizes: 
Tin container of size 200gm with burning capacity of minimum 2 hrs.
New launch: Tin container with burning capacity of 3 hrs. We also manufacture as per client's requirement.
Bulk packaging of 10, 12 and 14 kgs. in tin containers.
Special Containers for Exports.
Fuel gel to view our product images.
Advantage over other Gel Fuels
It burns with controlled fire, hence it will warm the food but not burns the food.
It burns with pleasant blue flame (also known as blue flame gel fuel).
It does not leave soot, smoke, and does not blackens the utensils.
It is odourless, transparent Gel fuel. Now available in pleasant blue colour.
It burns completely without any physical residue.
It burns without noise (splutter-free).
It can be ignited by opening the lid and lighting off with match stick, it is simpler to handle compared to other wick fuel, hence the term wick-less gel fuel. It can be put-off easily by covering with lid.
Who are the Buyers?
Basically, we cater to Caterers, Hotel Industries, Whole-sellers who deals in disposables including gel fuel etc,.
How to order?
We are pleased to serve you. You can order us through phone, email.
All transactions are done in cash / Demand Draft (DD) and for exports, the same needs to be backed by Irrevocable confirmed LC. Transportation as desired (FOB, Hyderabad). Taxes extra, wherever applicable. We have exported through dealers in U.S. Our Gelfuel has been regarded as the best in its class. We offer export quality gel fuel in India.
If our products are of interest to you, please let us know. We will be glad to give you a quotation upon receipt of your detailed requirements. Though not compulsory, we would appreciate if you mention brief company profile, along with your requirements. Samples of the wondergel™  can be had on request.
Visit our Other site